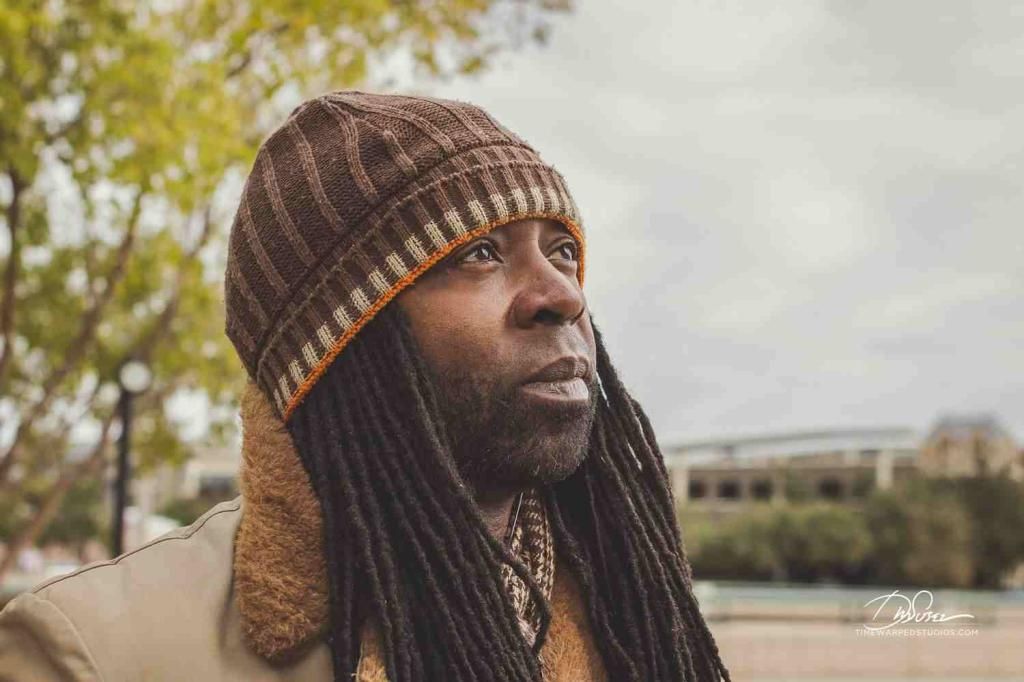 Psykhomantus:

Before we start. Can you tell us who you are and what you do? Bootha Vandross:

First off, I just want to say that truly appreciate you given me this opportunity & for all of the support. I'm Bootha Vandross, former group member of a Dallas, TX based Hip Hop group Loose Cannons turned solo artist. Outside of being an MC, I'm also a beat maker & dabble in audio engineering.

Psykhomantus:

When and how did you get into this art form call Hip Hop? Bootha Vandross:

Well, being an avid lover of music…I've been a Hip Hop head since the first time I heard "Rapper's Delight" by the Sugar Hill Gang. I officially started rhyming in 1992 after joining a group called P.O.E. (Productz Of da Environment). In 1997 I & a close friend became the Hip Hop duo Loose Cannons. We were a group for 16 yrs., until we split & I became a solo artist back in 2013.

Psykhomantus:

What inspires you to write your rhymes? Bootha Vandross:

Being that I'm a socially conscious individual, my writing usually is inspired by life events that effect my people & anyone else who suffers from the injustices that plague us on a daily whether it's physical, mental, or on a spiritual level. I also think of how Hip Hop used to carry a message & it sorely lacks that today…so that's something else that inspires my writing as well.

Psykhomantus:

I can't remember how I came across your music video "Barry Bonds" feat Robi Nickoli which was featured in one of our episodes but I do remember I could not find it on you tube, and the Vimeo file was too big so we had to make the right as I was not going to do that episode without putting it on. I loved the message and the beat was a perfect match. What made you write the song Barry Bonds and who produced the beat? Bootha Vandross:

Appreciate that you were diggin' this joint bro & put it on that episode. The song was inspired from the Malcolm X speech that plays at the beginning of the song. I was trying to apply what Malcolm was speaking on at that time (1962) to what's going on presently. I rapped it over a 9th Wonder instrumental & I titled it Barry Bonds because in many ways I compare him to Malcolm X in that he was a commanding & menacing figure to some. Every time Bonds stepped up to the plate he wasn't trying to hit a single, double, or a triple…he was trying to hit a homerun which was the very thing that got the fans excited. So with that being said, every time I spit on the mic I'm lyrically trying to hit a homerun that will arouse the listener & get them in a frenzy mentally, physically, & spiritually.

Psykhomantus:

Can you break it down for us, with who & what projects you've got going on at the moment? Bootha Vandross:

Right now, I'm collaborating on a ep w/a producer from Rimini, Italy who goes by Aniki Beats. We've titled it 'A Classic Revival'. It's a project that will take the listener back to that Boom Bap sound from the Golden Era of Hip Hop. The single that we're promoting now is titled "Police Brutality" & it's the next video that I'll be shooting. You can check it out here

https://soundcloud.com/bootha-vandross/police-brutality

Psykhomantus:

Can you name 5 rappers you rate and why? Bootha Vandross:

Damn, this is always tough because I always think I'm omitting someone; but here we go:

Tupac

…not because he was the most lyrically gifted, but because he wasn't afraid to stand for what he believed in no matter the consequences. I consider him the Malcolm X/Huey P. Newton of Hip Hop.

Nas

…I consider him to be the most lyrically gifted MC I've ever heard & he became the shining prince of NY at the age of 17 years old.

Rakim

…he's in my opinion the God of lyricism (including the next MC on my list) & one of the reasons Hip Hop has a Nas. Rakim took rhyming to another plateau with flow patterns & rhyme schemes. At the same time he was wowing us with his prowess on the mic…he was droppin' jewels all in the same breath.

Big Daddy Kane

…not only took rhyming to another level for much of the same reasons I mentioned regarding Rakim, but he was the ultimate definition of SWAG! He was the smoothest & most rugged rhyme spitter all at the same time & that style has been imitated, but never duplicated.

Ice Cube

…although NWA pretty much were the ones held responsible for giving us gangsta rap it was Ice Cube who was the backbone of that group. He was not only penning his own rhymes, but he was also ghost writing for Eazy E & Dr. Dre. And after he broke away from the group he reigned as the King of the West Coast for a nice period of time. And after all of that…he molded himself into a movie mogul.

Psykhomantus:

Can you name one song you wish you written by another artist? Bootha Vandross:

"The Message" by Grandmaster Flash. To this day I haven't heard a Hip Hop song that was more socially conscious than that one. From the very 1

st

bars that Melle Mel breathes he paints the picture "Broken glass everywhere/people pissing on the stairs you know they just don't care. I can't take the smell, can't take the noise/got no money to move out I guess I got no choice!" That's heavy man!! That song will be relevant FOREVER!

Psykhomantus:

What's been your most memorable performances & why? Bootha Vandross:

Probably the last performance that I did as part of Loose Cannons when we opened up for Souls of Mischief during the '93 Til Infinity 20

th

Anniversary Tour here in Dallas, TX. I say that because unknown to me at that time it would be our last performance as a group. I've never seen a more hyped up crowd & we definitely had them ready before Souls took the stage.

Psykhomantus:

My favourite question. Is there a Rapper you feel that should just give it up? Bootha Vandross:

One specific rapper…no, but for anyone out there who's trying to be a rapper with the thought they will become an overnight sensation…to those I say…give it up lol!

Psykhomantus:

Last question. What will we be expecting in the future from you? Bootha Vandross:

As I stated earlier, be on the lookout for the ep with my homie Aniki Beats 'A Classic Revival' (no release date as of yet). I'll be featured on some upcoming mixtapes from some MCs who I've collaborated with from different states; and looking to work with more artists here & abroad. I'll be doing a Conversation Piece Pt. 2…same concept but with a different person (keeping the lid on who that is right now). And the continuation of building my Be Vocal brand. And trying to get to London when you boys start putting on those shows!

Once again sincerest thanks for this opportunity & I love what you guys are building with Visionbombing & I will continue to help spread the word!

Check out the music video's "Barry Bonds" and "Shine" by Bootha Vandross.